There are many great reasons why you might wish to explore hair-growth shampoos including an ill-advised appointment at the salon, and over bleaching your hair.
We do earn a small commission on the products that you purchase via the links in this article.
If you're experiencing a large amount of thinning hair, or hair loss, it's important to get to the root issue of the problem. If you are experiencing either of these issues, it's a good idea to start with a doctor's appointment and not at the bottom of your shampoo bottle.
The sad truth of hair loss is that it's not your shampoo, in fact, more than one advertiser has capitalized on the concept and made a small fortune on touting that if you buy their product you'll have gorgeous long hair. Nope, you just can't believe what you read online.
Benefits of Hair Loss Shampoos
There are a few great benefits to choosing a good "hair growth" shampoo. Of course, none of them are going to make you look like a Kardashian overnight, however, the best formulas can help to improve your hair and strengthen it which can, in turn, make it look longer, thicker and stronger. You want better growth, not an overnight miracle.
There are some great ingredients to watch for. You want to find shampoos that contain menthol, peppermint, and caffeine to help boost your circulation at your scalp. This will go far to help improve your hair growth. You want the building blocks to encourage hair growth. This includes protein as well as the previously mentioned ingredients. It's vital to nourish your hair. If you use too much of any one ingredient, you're going to be doing more harm than good.
If you have stringy or stretchy hair, you may do well to add more protein (this is especially true for blondes). Of course, if you're lacking elasticity and your hair easily snaps, you may need to use more moisturizer than protein. It's a delicate balance to be sure. Now that you understand the basics, let's examine some of your options.
Bond Maintenance Shampoo
Cult Beauty
Olaplexcultbeauty.co.uk
You're likely familiar with the benefits of Olaplex, especially if you bleach your hair on a regular basis. You can boost the benefits of your treatment with some of this brilliant shampoo. Use it after the No. 3 Hair Perfector Treatment. Then, when you're finished, seal it with 2 Grow Strong Shampoo.
Look Fantastic
Maultilookfantastic.com
While this one isn't full of lather, it makes up for it by being an ultra-nourishing benefit shampoo. It smells like you're at an Ayurvedic spa, and it has many other great ingredients that will coax even your most damaged locks into a rejuvenated life. It contains argan oil, turmeric, aloe, and frankincense.
Thickening Shampoo
Cult Beauty
Revitalash
Cultbeauty.co.uk
If you, like many of us, saved your lashes after booking a half-price extension through Instagram, this company now makes hair products. You're going to love this shampoo. It's formulated along with the same principle and it helps with a growth serum and vegan protein along with some great exfoliating willow bark to help ease damaged hair into its former glory.
Original Gold Label Anti-Thinning Shampoo
Amazon
Pura D'Oramazon.co.uk
You may simply walk by this drab bottle, however, it's an Amazon wonder and has many great positive reviews. There are no dubious chemical innovations here. The sulfate-free formula has a host of botanical extracts and biotin that will work together to balance and fortify your weakened hair.
Hair Density Shampoo Intense
Amazon
Grow Gorgeousamazon.co.uk
This is a great choice if you're looking for fuller, thicker hair. It's fortified with biotin protein, a variety of vitamins, and caffeine which work together to wake up your scalp and nourish your hair back to life.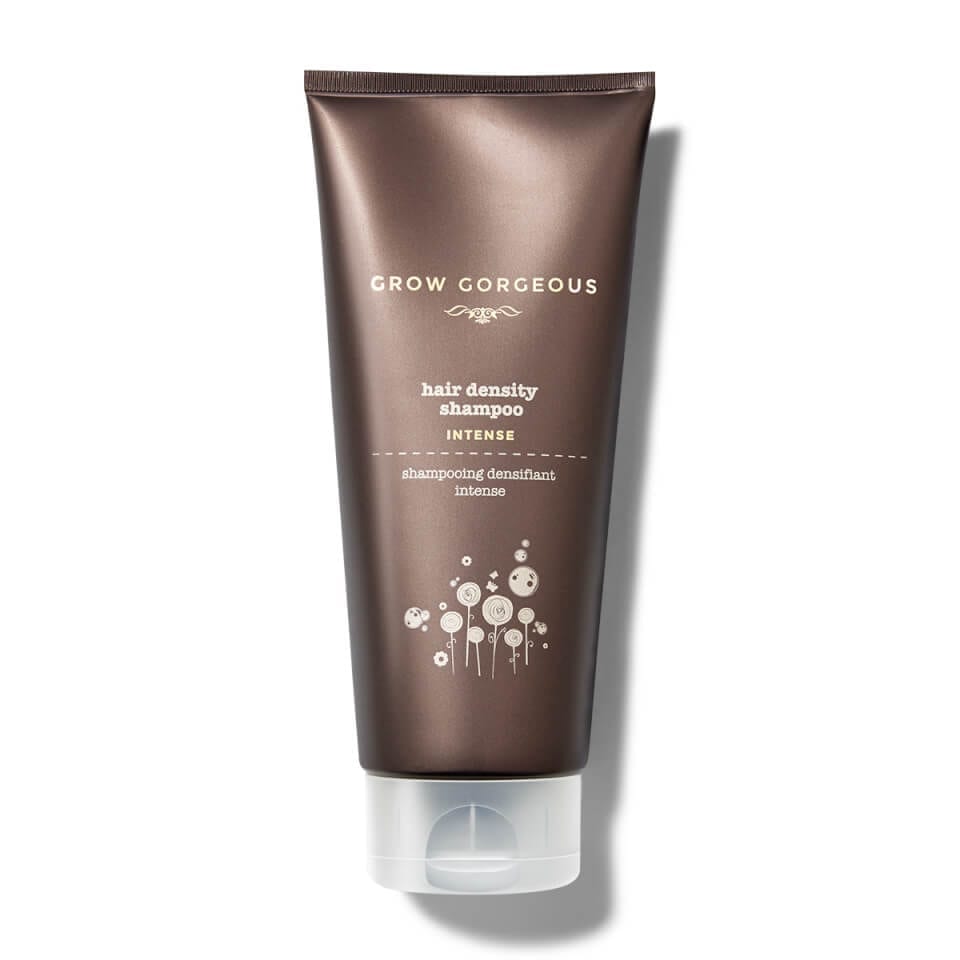 Cashmere Protein UV Protective Shampoo
Look Fantastic
3 More Incheslookfantastic.com
This is an excellent shampoo that works to strengthen weak hair, especially if it's recently been bleached. keratin works with wheat protein to help repair the broken bonds from bleaching. The UV filters work to prevent the sun from fading your color. If the price seems too high, just remember, you'll likely have this 1-liter bottle for over a year before you need more of this shampoo. It lasts a long time and a little bit will go a long way so you're not going to have to buy a lot of shampoos here. Factor in what you pay for another type of shampoo and how often you'll buy it and you'll see that it's a great deal.